Sawdust Briquetting Machine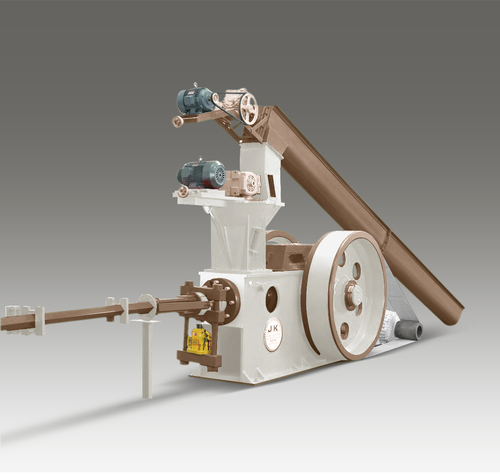 Sawdust Briquetting Machine
Price And Quantity
Product Specifications
Briquetting machine

Produce white coal
8500 (apprx.) Kilograms (kg)

Briquette Machines Briquette Press Machine Wood Chips Briquette Machine
Constant Pressure

65mm dia.
Product Description
Technical Specification
Why briquettes Briquettes know as Bio Coal/White Coal is used as thermal application in many industries. Instead of using fuel like coal & petroleum products which pollutes environment by releasing carbon. It is also easy to store and transport to long distance as it compressed with high pressure.
The Jay Khodiyar Briquette plant mechanical briquette press are machines designed to meet the requirements of customers and it is also Know as briquetting system, briquetting solution, briquettes plant manufacturer.
The Briquetting system procedure is the conversion of agricultural waste into uniformly shaped briquettes that is easy to use, transport and store. In more than 30 years of business, Jay Khodiyar Machine Tools processed a very large variety of Agricultural waste, forestry waste, municipal solid waste Briquetting plant; acquiring a deep and unique experience in the briquetting industry.
Mechanical briquetting press System, thanks to the high pressure generated in the compression chamber (about 2000-2500 kg/cm²), produce a high-quality briquette, and they are designed and manufactured to be reliable and long-lasting. The superior ratio between hourly output per kWh and the low operating costs of the mechanical briquetting machine are particularly advantageous compared with other technologies available on the market.
The JK mechanical briquette press are machines designed to meet the requirements of customers that need to compact large quantities of waste or fibre and look for a strong, efficient, high-performance machine built to last and designed to work around the clock without problems. These machines have been perfected over thirty years of experience and include advanced technical and dependable solutions that are unique to JK briquetting Systems.
Promote environmental sustainability and recycling, transforming biomass waste, forest waste into a source of profit for your business.
Trade Information
All India

ISO-International Organisation for Standardization D&B-Dun & Bradstreet CE Marking Conformit Europene TUV SUD Patent Registered