Industrial Biomass Briquette Plant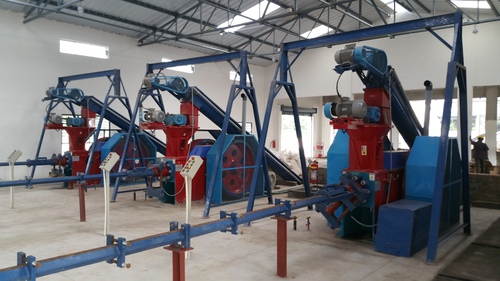 Industrial Biomass Briquette Plant
Price And Quantity
Unit/Units

100000 onwards INR
Product Specifications
produce white coal

2000 Kg/hr
Cylinder

8500 Kilograms (kg)
Product Description
This high performance Soybean Briquetting Machine is used for producing white coal. With having 1200-2000 kg/hour production capacity, this equipment is appreciated for its prolonged working life. Shape of produced briquettes is cylindrical. With having 415v voltage, this machine has advanced DC motor and water cooling system. This machine weighs 8500 kg and it requires minimal space to install. Long working life, user friendly mechanism, sturdy construction and high output are its key features. We are a prestigious manufacturer and exporter of Soybean Briquetting Machine.
This project is called Biomass Briquetting Plant and is a process of converting Agro waste and forestry waste into biomass briquettes/Bio coal. The biomass briquetting is the best renewable source of energy for healthy environment and economy. It's complete Eco-friendly green energy project.
We all are well aware with the importance of energy and its sources. Energy is the key factor in the economic development of every country. The demand of energy is increasing day by day and the supplies of sources are limited. It is globally red alert for fossil fuel like petrol, kerosene, natural gas, LPG and lignite etc. this has made a huge gap between demand and supply of energy. Renewable energy is the ultimate solution, which can fill this gap. Most of advanced countries have adopted this concept and accepted this project and have retained their natural resources to get the solution of energy and fuels.
Main concept of this project is to produce the material as abio-coal, which is made from the was tages. We cannot destroy the was tages totally but we can use it with the help of briquetting plant and can produce the briquettes which ultimately generate energy. To provide the energy in low cost is the main concept of the project.
Almost any biomass can be briquetted. Briquetting plants set so far in India are using saw dust, bamboo dust, bagasse, cotton stalk, coffee husk, groundnut shell, mustard husk/stalk, pine needles, rice husk, sugar mill waste, jute waste, coir pith and other wastes & residues like castor shell, tea waste, tree bark, wild grasses & shrubs i.e. any type of agriculture waste or forestry waste can be also briquetted individually or in combination without using any binder.
Raw material (of desired size) is transported by pneumatic system to holding bins fixed over briquetting press.
Material is compressed by ram through taper bored die. By compression temperature is raised & lignin come to the surface and binds the material by its natural binder.
Briquettes are formed in shape of log and it is automatically pushed through cooling line to the storage point.