Biomass Briquetting Machine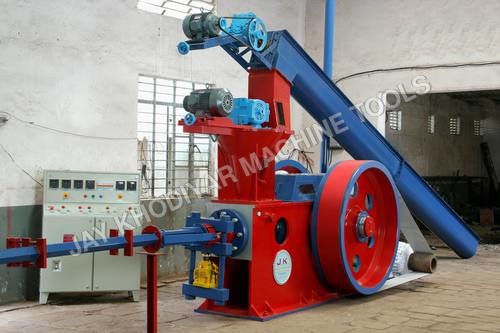 Biomass Briquetting Machine
Price And Quantity
Product Specifications
Biomass Briquetting machine

produce white coal
1200-2000 (depending on raw material) Kg/hr

Cylinder
8500 (approx.) Kilograms (kg)

No
Constant Pressure

70mm dia.
Product Description
We are instrumental in manufacturing and supplying a comprehensive array of Biomass Briquetting Machines. Our offered product is a heavy machine of standard design. These machines are fabricated by our experienced professionals using premium quality material and in complete compliance with the set industry standards. Our machines are highly demanded in the market for waste processing and recycling. We stringently check our manufactured range on various well-defined parameters, which ensures its flawless delivery. Agro Waste Recycling Machines are highly acclaimed by our clients owing to their easy installation and minimum maintenance.
Highlights:
Quality spare parts are used in fabricating these machines
Premium performance
Accurate Output
Sturdy construction
Maximum Production Capacity.
Heavy structure with standard design.
Acceptability up to 20 mm size of Raw Material (NO need of powder Form).
Easy Operating system.
High-density of finished product with 90 mm diameter
Lowest production Cost per MT due to state of art technology
Low Electric consumption due to direct feeding without hammer Mill
Low maintenance cost.
Low management cost due to high production capacity.
No loss of production & Air pollution due to direct feeding system
Specification:
Production Capacity : 1200-1500 Kg/Hr
Finished Product Size : 90 mm Diameter
Raw Material Form : Cylindrical
Process Cost/Mt (Appr)
Weight : 9 Tonne
Dimension (LXBXH) : 5X5X16"
Use of Briquettes in various Industries
Ceramic Industries
Refractory Industries
Chemical Industries
Milk plant
Vegetable plants
Spinning Mill
Leather Industries
Rubber Industries
Solvent Extraction Plant
Dyeing Units
Food processing Industries
Textile Unit
Lamination Industries
Brick making units
Any Industrial thermal application
What is Briquettes?
Briquettes are non-convertible source of energy, produced when Raw-Material like Agro waste & Forestry Waste are processed through Briquetting Press. This Briquettes are renewable in energy.
Why Briquettes?
Briquettes are cheaper then coal.
Briquettes does not pollutes the environment as there is no sulfur in briquettes.
Biomass briquettes have a higher practical thermal value and much lower ash content.
There is no fly ash when burning briquettes.
Have high burning efficiency.
Briquettes are usually produced near the consumption centers and supplies do not depend on erratic transport from long distances.
Specification
Production Capacity

: 700-850 Kgs//Hr Depends on raw material
Finished Product Size

: 65mm diameter
Finished Product Length

: 100mm to 200mm
Finished Product Shape

: Cylindrical
Raw Material Form

: Powdery
Process cost/MT (Approx.)

: INR 600 to 750/-
Electricity / Power
Required power connection

: 80 HP / 60 KW machine with powder mill
Practical used Amp. Load

: 72 83 Amp (Approx)
Power consumption

: 50 55 Units / Hr.
Production Capacity:
Depending upon the bulk density and moisture content of the raw material used, below mentioned are some of the examples
Sugarcane Baggasse

: 450 to 500 Kgs / Hr (Approx.)
Groundnut shell

: 700 to 900 Kgs / Hr (Approx.)
Saw Dust

: 700 to 850 Kgs / Hr (Approx.)
Rice Husk

: 350 to 450 Kgs / Hr (Approx.)
Other & Mix Raw Material

: 600 To 750 Kgs /Hr ( Approx.)
Trade Information
All India

ISO-International Organisation for Standardization D&B-Dun & Bradstreet CE Marking Conformit Europene TUV SUD Patent registered