Bio Coal Briquetting Press Machine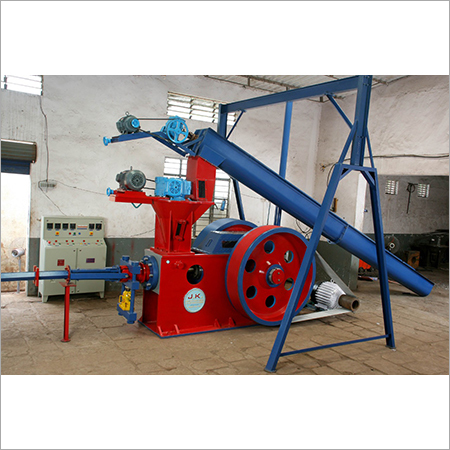 Bio Coal Briquetting Press Machine
Price And Quantity
Plant/Plants

Booking Amount, 100000 INR
Product Specifications
Michanical Piston press Type

making briquettes // bio coal // white coal
1200-200 (depends on raw materisl) Kg/hr

Cylinder
8500 (approx.) Kilograms (kg)

Constant Pressure
Product Description
Known as the bio coal briquetting press machine, this project uses agricultural waste and forestry wastes to produce biomass briquettes or bio coals. The briquetting of biomass is one of the best renewable energy sources for both economy and environment. It's an environmentally friendly green energy project.
Energy and its sources are important to all of us. Energy is the key factor in the economic development of every country. Increasing energy consumption is putting a strain on limited energy resources. The demand for fossil fuels is far greater than the supply of these fuels. This has led to a huge gap between supply and demand. The ultimate solution to this is renewable energy.
In this project, the main concept is to produce a bio-coal based on wastes. Although wastages cannot be completely destroyed, bio coal briquetting press machine can help us transform them into briquettes that ultimately generate energy. Low cost energy is the key concept behind this project.
Biomass of almost any type can be briquetted. The wastes that one can use to make briquettes are not limited to agriculture waste or forestry waste.
It is important to mix materials of two or more types in an appropriate manner when they are to be used together.
Sun drying or using turbo dryers should be used to reduce moisture in raw materials.
Dryers are normally required if the moisture content exceeds 15%.
By pneumatic system, raw materials may be transported to holding bins fixed to the briquetting press.
Screw conveyors move materials from bins to presses.
A ram compresses the material through a taper-bored die. Natural binder binds the material.
It is automatically pushed through the cooling line to be stored in the form of a log.
Specifications:
Production Capacity: 1200-2500 Kg.Hrs.
Finished Product Size: 90mm diameter
Finished Product Shape: Cylindrical
Raw Material Form: The machine accepts all types of agro waste raw materials up to a maximum size of 25 mm.
Process cost/MT (Approx.):INR.400 to 550/-
Briquette Length: 100 mm 350 mm
Moisture content of Raw Material: 8% to 12 %
Other Data:
Required power connection: 88.5 HP / 66.37 KW
Practical used Amp. Load: 75 85 Amp (Approx.)
Power consumption: 30 40 Unit / Hour
Production capacity:
Saw Dust: 1500 to 1700 Kilogram / Hour (Approx.)
Rice Husk: 1000 to 1350 Kilogram / Hour (Approx.)
Sugarcane Baggasse: 1000 to 1300 Kilogram / Hour (Approx.)
Groundnut shell: 1800 to 2500 Kilogram / Hour (Approx.)
Other & Mix Raw Material: 1200 To 1800 Kilogram / Hour (Approx.)
Trade Information
as per requirements Per Month

60 Days